ACADEMICS
---
ACADEMIC CLUBS
The school encourages creative activities among its students. Various clubs provide them ample opportunities of exploration and discovery. Each academic club has its set objectives and method of functioning.
Each student is expected be a member of any one of the following clubs: Literary club, Sports club, Library club, Science club and Computer club.
PRE- PRIMARY SECTION
The early childhood years have been universally recognized as crucial foundation years. An important components of early childhood development of the children.
It aims at preparing them for formal school education. Hence pre-school is a preparatory stage where a child lays the foundation for all other activities in education.
The kind of training imparted at this stage decides the level of academic achievement of a child in later part of his life.
So it is essential to give more emphasis on different development such as physical, cognitive, social and emotional.
Organized games and different types of races are planned to improve their sense of co-ordination and leadership qualities.
Giving them the concept of language and numbers is equally important at this stage.
Besides teaching them alphanumeric, stress is laid on developing their reasoning ability by providing them with different worksheets to get the actual feel of the subject.
Rhymes and story telling are some of the most interesting activities in the curriculum.
These activities, apart from giving fun, develop concentration and listening skills. The children increase their vocabulary, express themselves freely and develop their imagination.
Different techniques are used in the story telling such as puppets, flash cards, flip look, flannel graph, picture books and models etc.
Children are encouraged to dramatize stories. "Learning by doing" is implemented at every stage of education.
Children perform different activities to understand the environment and science concepts such as germination of seed and presence of air. Children are exposed to concrete examples.
As part of the pre primary curriculum children are taken to different places suchas cowshed, milk diary, post office, hospital, railway station, zoo, potter & carpenter workshops, airport etc. to have practical experience of what they are reading in their books.
It is our firm belief that every individual has got his own creativity and should be given proper opportunity to express and develop with different activities such as painting, printing and clay modeling.
These activities also help channelize their destructive behavior to constructive activities. To make children aware of our rich cultural heritage different festivals such as Diwali, X'mas, Navratri, Id, Holi etc. are celebrated. Every child is exposed to co-curricular and sports activities so that he gets an opportunity to transform it into reality.
Children are facilitated with a separate library has a rich stock of playing materials contributing to their overall development. Audio-visual facility is available in the library. Thus the small kids learn and grow in a free environment.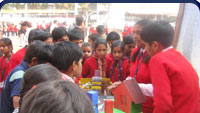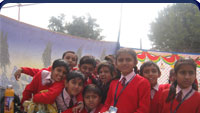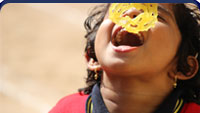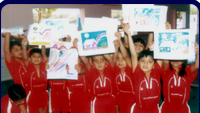 ACADEMIC SUBJECTS
A child learns from environment and through with other children and adults. Therefore efforts are being made to create a pleasant and conducive environment in the school to faster all round development of a child. The curriculum aims at achieving these objectives.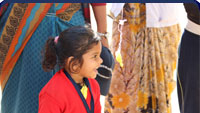 PRE – PRIMARY [NURSERY, KG]
During the pre-primary a child is taught basic concepts of Language, Mathematics, Science and Social Studies through play and many activities such as Creative Art Activities, Music, Talk, Celebration of Birthdays and Festivals & Field.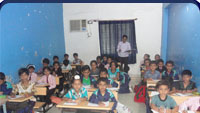 PRIMARY SECTION I to V
Primary section is run in accordance with the syllabus prescribed by CBSE Subject taught are English, Hindi. Maths, Environment, Computer, General knowledge and Gujarati.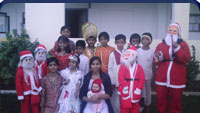 MIDDLE SECTION VI, VII, VIII
Middle section is run in accordance with the syllabus prescribed by CBSE Subject taught are Science, Maths, Social Science, English, Hindi, Computer, General knowledge & Gujarati till std. VII.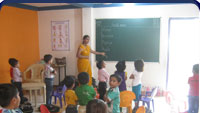 Secondary & Senior Secondary SECTION
Secondary & Senior Secondary section is run in accordance with the syllabus prescribed by CBSE. The Subjects as prescribed by CBSE Board available at school are allotted to students.
COMPUTER STUDIES
Computer studies is compulsory for all classes.