ACTIVITIES & EVENTS
---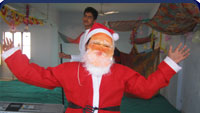 CULTURAL ACTIVITIES / COMPETITION
The School conducts cultural programmes and competitions at regular intervals to identify and promote individual interests and talents. These programmes are designed to boost the morale and confidence of all Commuters and boarders. In house competitions comprise debate, painting, elocution, dance, open recitations etc.
ACADEMIC HELP CLASSES
Synonymous with the ancient gurukul, the hostel has a team of committed resident teacher to assist the needy children.
The entire hostilities/boarders are graded according to their I.Q./academic aptitude and interests.
Weak children and slow learners are identified and special efforts are made for their improvement.
Psychological tests are administered to find out the level of each child and meticulous planning is made to improve their level of performance by means of constant evaluations and scientific means.
Talented and bright children are assigned challenging tasks for their further growth.
Thus in all the areas, children are assigned challenging tasks for their further growth.
Thus both slow learners and smart children gain simultaneously from these by the subject teachers.
Teachers visit the hostels regularly and help students with their studies.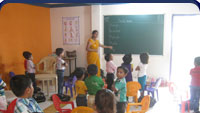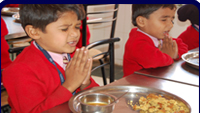 HEALTH CARE
"Only in a sound body; a sound mind can work".
The hostel takes great care of the health and hygiene of the boarders. A balanced, nutritious vegetarian food and mineral water is provided to the boarders without any restriction on quantity. Milk/Tea/Juice is served with breakfast every day.
A resident medical officer takes care of minor ailments of the boarders. In case of emergency, special doctors visit the hostel on call.
CARE FOR SMALL KIDS
Special and constant attention is given to small kids in the hostel. There are specially appointed staff to attend to various needs of the small children who substitute their mothers in the hostel.
The house mothers treat the kids with warmth and affection, each child is exposed to various interesting activities for the physical and mental development. Small children are all the time under the supervision of the staff. They never miss their parents but always look happy and joyful. Constant check up is done and follow-up action is taken. Thus they attain a balanced growth. Proper security is provided to children.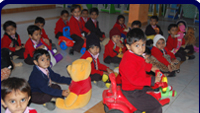 TOURS AND PICNICS
Boarders and Commuters are not confined to the four walls of the hostel and School but they are often taken out on educational tours and picnics. One-day picnics are under taken twice in a Year to nearby areas. Long tours are organized during vacations and holidays. These trips are both entertaining and educative.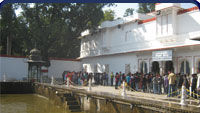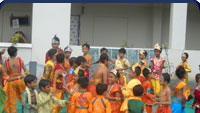 SCHOOL ACTIVITIES
The school to attain a balanced growth of the children by emphasizing equal weightage on both curricular and co-curricular activities. These activities help to unfold the talents of individual students and open up new horizons of personality development. They help to make one socially and emotionally balanced, matured and reach high objectives of life. Co-curricular activities characterize a special feature of the school.
INTER HOUSE COMPETITIONS
Inter house competitions comprise declamation debate, Rangoli, folk dance, poem recitation, patriotic song, drawing fancy dress, skits, quiz contest, card making, one act play essay writing, elocution, class room decoration etc. These competitions are conducted separately for juniors and seniors on all working Saturdays.
HOBBIES
Hobbies are a must for all the students. Both boys and girls have a wide list of choice to choose from. Besides the academic subjects prescribed and co-curricular activities children have to select at least one hobby from the following list according to their interest.
Pool
Kitchen
Gardening
Library (Reading)
Equestrian skills
Badminton
Football
Basketball
Musical instrument
Music
Karate
Yoga
Classical Dance
Table Tennis
Chess
Painting
Caroms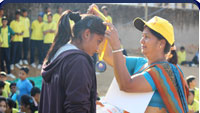 ANNUAL SPORTS MEET, ANNUAL DAY
Annual sports is an important activity of the school. Every year annual sports day is celebrated with great enthusiasm and excitement in which students, parents and teachers equally take part. Annual day coincides with project display and cultural festival.
CELEBRATIONS
The school celebrates all important national and regional festivals and religious festivals to inculcate in the children the feelings of religious harmony and national integrity.
NATIONAL LEVEL PARTICIPATION IN SPORTS
Promoting sports activities is one of the salient features of the school. The school has been making representations at National Level Meets in basketball, hockey, swimming, and football besides all athletics events.
EVENTS PHOTOS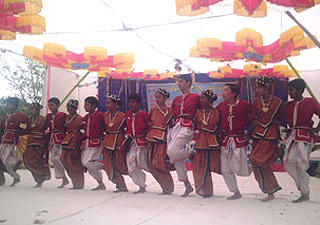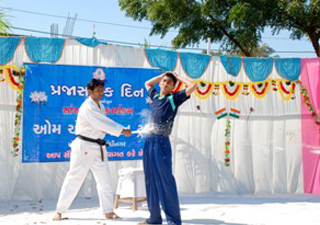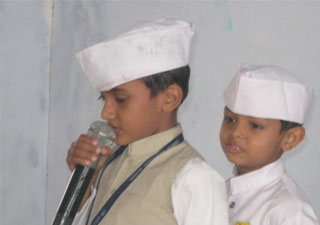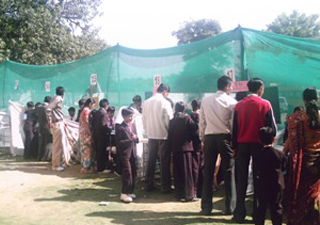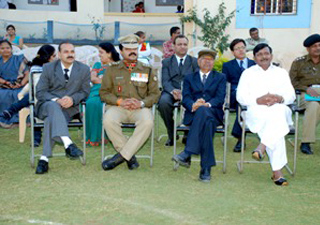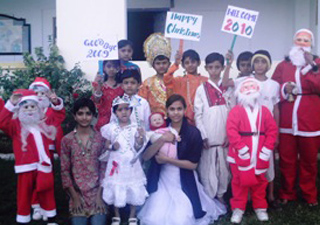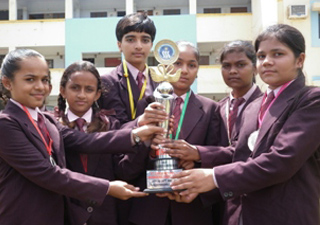 Other Activities